Home » Made in Paris. The generation of Matisse, Lagar and Foujita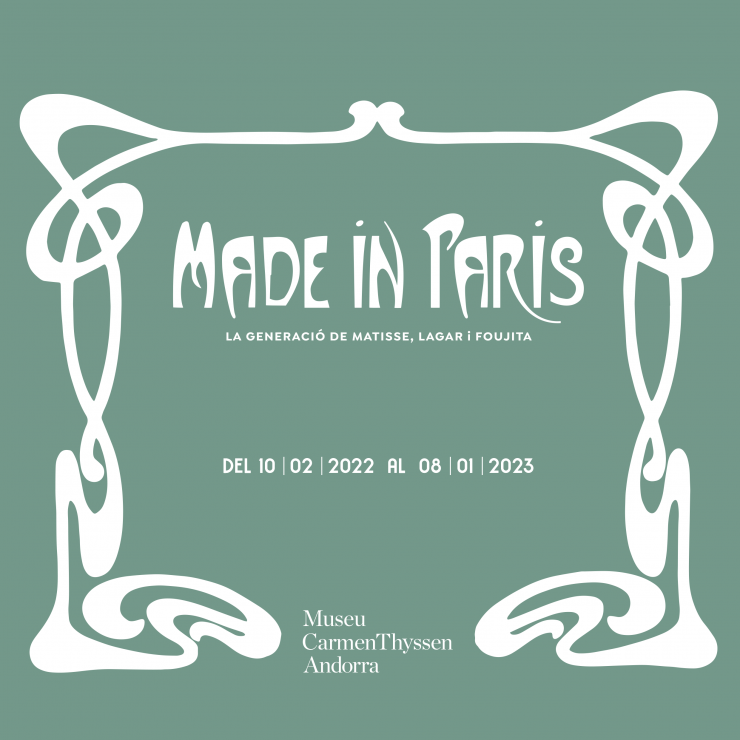 Made in Paris. The generation of Matisse, Lagar and Foujita
From 10/02/22 to 08/01/23
The Museu Carmen Thyssen Andorra hosts the sixth exhibition Made in Paris: The generation of Matisse, Lagar and Foujita, an exhibition that aims to reflect the cultural magnet of Paris between the late nineteenth and early twentieth centuries.
Artists such as Henri Matisse, Léonard Tsuguharu Foujita or Charles Camoin are forerunners of new trends resulting from the evolution of Impressionism. Others, from all over the world, also found in this atmosphere of avant-garde and optimism a real source of inspiration. This is the case of Thomas Hart Benton, Francisco Bores, Hermen Anglada Camarasa or the sculptor Baltasar Lobo, who were impregnated in the French capital with new trends such as post-impressionism, symbolism and fauvism.
Using the format of the metro lines, the visit covers the five mythical schools that coexisted during this period (the École de Paris, the Académie Colarossi and Académie Julian, the École des Beaux-Artes de Paris) and their influence on the international scene (Real Academia de Bellas Artes de San Fernando de Madrid).
To speak of Paris is also to speak of music and, for this reason, the exhibition includes a musical discourse entitled "Virtuoso Impressionists" with a selection by the Andorran musicologist Josep Martínez Reinoso. Visitors will be able to enter into a synergistic experience through the interpretations of three French female pianists, pioneers in the recording industry in the mid-20th century: Henriette Faure, Germaine Thyssens-Valentin and Magda Tagliaferro.
The artists represented in Made in Paris are in magnificent dialogue with each other and will allow visitors to witness the most important social and artistic changes of the early 20th century.
The exhibition will be on view on the first floor of the former Valira Inn from February 10th 2022 to January 8th, 2023.
More information
Downloads
No downloads available for this exhibition
Opening hours
From Tuesday to Friday: 10.00 am - 6.00 pm
From Tuesday to Saturday: 10.00 am - 7.00 pm
Sunday: 10.00 am - 14.00 pm

Monday: CLOSED
You may also be interested in ...